Over the course of two decades, Emelle's caters 10 parties for one family with celebrations spanning three generations.
Featuring: Megan and Elliot Laskin
Growing up, the motto in Megan Laskin's household was "work hard, play hard, no regrets." Her father, a decidedly celebratory spirit, impressed upon Megan that life was not a dress rehearsal but a one-shot deal. It was to be lived, and lived fully.
Though her father passed young, he inspired a belief that the good times should be shared with friends and family, and that special moments in life should never pass without a party.
Megan and her husband Elliot have whole-heartedly embraced her father's philosophy. From birthdays, anniversaries, weddings, bar and bat mitzvahs to reunions with friends and major life milestones, no worthy occasion goes uncelebrated. Parties are a family affair, drawing together parents, children, extended family and friends. Among the familiar faces often present are those of the Emelle's Catering staff, who've been with the Laskins since the beginning.
"My mother discovered Emelle's early on for a birthday party she was holding," tells Megan. "That led to them catering our wedding, then my brother's wedding, then my sister's wedding. They've done brunches for our best friend's son's bar mitzvah, and a Friday night Shabbat dinner for our niece's commitment ceremony."
To date, in addition to smaller functions, the Laskins have teamed up with Emelle's on over 10 major family parties.
"Three generations. Ten parties. Twenty years. That's lots of history."
"Three generations. Ten parties. Twenty years. That's lots of history," says Elliot, who has always been particularly impressed by Emelle's ability to organize and manage a space. "They're great at seeing the big picture," he says. "At the parties we've done, they coordinate with décor people and suppliers. That can be stressful, but they manage everybody's expectations. They know we like things to go off without a hitch and they keep everyone happy."
Sometimes, keeping everyone happy requires coming up with creative solutions on a moment's notice. One stand-out moment was at the Laskin's Bollywood party celebrating Megan's 40th birthday, an elaborate backyard affair for 150 people. "We had this massive 15,000-square-foot tent outside," says Elliot. "It looked amazing, but the floor was plastic and a day before the event we realized it just didn't feel good. It almost ruined the atmosphere. Emelle's understood, and they arranged to have carpet brought in. Afterward, guests couldn't tell if they were inside the party tents in our backyard or in our home!"
They worked through the night. With just two hours to go, the tent was transformed into the perfect blend of Bollywood flair and Vancouver glamping. As guests arrived, they were treated to a wide assortment of authentic Indian cuisine and encouraged to eat, drink, and dance the night away. "The atmosphere was amazing. The food was incredible. The whole night, the music, the ambience, it was just fun," says Megan. Even the police officers, who dropped by at eleven, one and three, couldn't help but wander around and snag a nibble.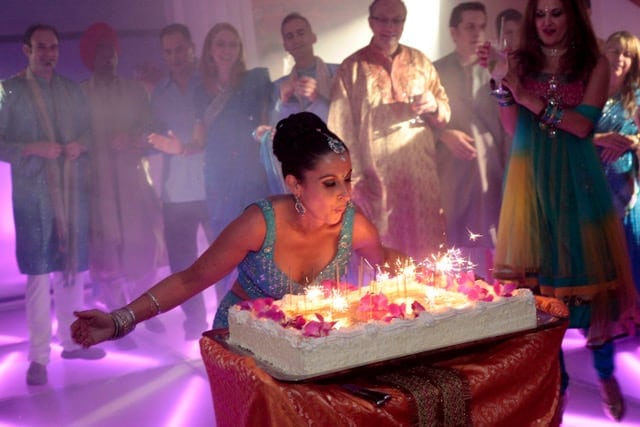 For Megan and Elliot, the fun of working with Emelle's is the collaboration. Borne from decades of shared personal and family milestones, a mutual respect and deep sense of kinship has grown between the Laskin family and Emelle's. "They listen to our ideas, come up with their own, and together we always land on something amazing," says Megan. Above all, Emelle's ensures that whatever is important to the Laskins, their guests, and to the theme of the occasion, shines through.
If the theme demands a box of Krispy Kreme donuts, Emelle's will grab some on the way over. If a Kosher meal is required, that's what Emelle's will prepare. "They really respect whatever your culture is, and they'll make the food to match that," says Megan. "If we're doing something fun and casual, they're open to that. If we need something fancy and high-end, they can do that too," she says. "That's how Vancouver is. We have really fancy, high-end venues but we also have nature and plenty of casual, outdoor activities."
As Megan and Elliot look forward to their forthcoming 20th wedding anniversary, one thing is certain: They will work hard, play hard and have no regrets with Emelle's by their side.